Find yourself in a best one day Hiking Tour Tipova&Saharna cave monasteries, follow the mysterious trails to Saharna cascades and Tipova canyons, climb the rocky Grimidon Hill!
Group size: from 1 pax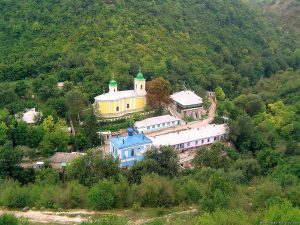 Hiking Tour: Saharna monastery and its surroundings.
In the morning, we'll take you to Saharna village which is 120 km away from Chisinau. "Sfinta Treime" Monastery area is, truly, very picturesque. The Nistru River flows nearby and Saharna village stands on its bank. Surprisingly, it forms 22 cascades on its way. Thus, tired of travel, you may rest at the bottom of a cascade in the shadow of high hills. The monastery is surrounded by hills, partially covered with woods. On the top of the Grimidon hill (one of Saharna hills) you may see a little chapel. As the legend says, there's a footprint of Mother of the God right on the top of the hill.
Hiking Tour: Tipova (Tsipova) Cave Complex and Canyon
We'll, further, visit one of the oldest cave monasteries in the Republic of Moldova-Tipova monastery. It is spaded in stone on the bank of the Nistru River. Tipova River flows down the Nistru River and, as a result, forms various waterfalls and cascades.
According to an old legend, the Greek mythological poet Orpheus died at Tipova Monastery. He was buried in the cascade valley, and it is not difficult to recognize his grave, as there are six apertures slabs on it.
According to historians, the Moldovan ruler Stephan the Great was frequently visiting these lands during his battles against Tatars. An old legend tells that he married to one of his wives namely in the Tipova monastery. Finally, she was buried at this holy place.
Tour details are available on incoming@solei.md
For all interested in this itinerary and willing to join a group tour to Moldova we're offering extended tours, like Country Tour Moldova and Countryside Tour.