Join Cricova winery tour and visit the unique cave monastery ORHEIUL VECHI!
Be among those who have a splendid chance to learn the process of wine-making in Moldova , and who can see one of the world's largest wine collection! 
Group size: from 1 pax
The Integrated Factory "Cricova" is a true pearl of Moldavian wine-making.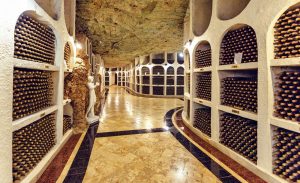 The excellent Moldavian wines are aged in the famous Cricova limestone mines (they are almost 60 km length).
Natural limestone in the cellars helps to maintain the necessary temperature – 12-14ºC and humidity 97-98 % – the optimal conditions for high quality wine aging. Thus, Cricova wines are unusual – quite self-contained, very tasty and elegant.
Today, Cricova is, obviously, an underground town. You will drive along the streets and boulevards with wine names Cabernet, Feteasca, Pinot, Aligote…  . In the underground silence of Cricova cellars, up to 30 mln. liters of wine acquire their precious unsurpassable properties.
Cricova sparkling wine is aged in bottles for up to 3 years. All Cricova wines can be tasted in luxurious tasting halls, which are a veritable masterpiece of exquisite architecture.
We promise you lots of positive emotions and good impressions in the historical complex  Orheiul Vechi. We'll take you to the countryside villages like Butuceni and Trebujeni. It's a top tour to important historical and archeological sites which, surely, take one some centuries back. The tour gives a possibility to learn more about the rural life of the Moldovans. You'll get closer to the villagers, and, of course,to the nature with its amazing landscapes and fresh air.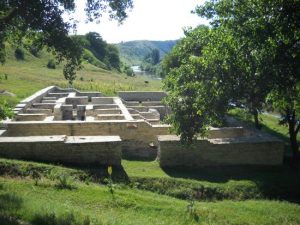 So, Orheiul Vechi is a museum complex that presents the remnants of different civilizations in the area between Nistru and Prut rivers. It is situated 60 km away from Chisinau in a narrow, rocky, 150-200 m deep bend in the Raut River valley. On the opposite side of the river, we can distinguish the ruins of the "New town" of the Golden Horde "Sheihr-al Gedid" (XIII-XIVc.). As researchers affirm, it was one of the Tatars' capitals during their expansion into Europe.
Further, we'll enter in an Orthodox cave monastery "The Assumption of Mary ". It was expanded and modified inside the cliffs by the monks over the centuries. Surprisingly, it is still functioning and attracts many tourists by its uniquiness.
Finally, Orheiul Vechi is an archeological complex with caves, grottoes, churches, and hermitages, which stretches over 220 ha.
You may, also, request this tour as a part of a Enjoy Moldova Tour on incoming@solei.md and enjoy your holidays in Moldova!