Moldova Wine Tour
Wine Tour is available for groups from 2 pax.
Day 1: First Acquaintance with Moldovan Wine-Urban Winery "Atu".
Upon arrival in Chisinau you're going to visit the first urban winery in Moldova located right in Chisinau, at a very short distance from the airport Chisinau. It's a perfect chance to taste wines which are produced manually.
Day 2: Underground city of wines and open-air museum complex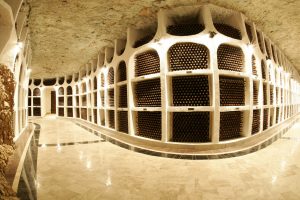 Today you'll see our underground city of Cricova with famous wine cellars, and even taste some of their perfect wines and sparkling-wines.
You'll see a large wine collection and get acquainted with the process of wine and sparkling wine production.
The oldest wine to be stored there is a Jerusalem Wine (1902). Cricova is a unique place housing historic wines among which Goering's collection, the winery is proud for.
While exploring Orhei region you'll visit an impressive monastery complex that presents the remains of different civilizations established between Nistru and Prut rivers.  
Here, you'll taste the delicacies of the Moldovan cuisine and enjoy traditional folk show. You'll spend evening in a pleasant atmosphere of a local sommelier of the wine shop&bar "Invino" in Chisinau and will find about best wines of Moldova.
Day 3: The oldest monastery and the biggest wine collection
Today, you're going to discover the oldest Moldovan monastery and the legendary wine collection of Milestii Mici winery. Capriana monastery is considered to be the oldest one in Moldova and is located in a beautiful area of Codrii forests.  It was founded by the great Moldovan Ruler Stefan the Great. Closed and dilapidated during the post-war period, it was only reopened again in 1989, becoming a symbol of national revival.
After breathing the fresh air of Codrii, get into one of the biggest wine cellars in the world and witness "the Golden Collection Milestii Mici" entering the Guinness Book of Records for storing more than 1.5 Million bottles of harmonious wines "Pinot", "Traminer", "Muscat", "Riesling", "Feteasca", "Codru", "Negru de Purcari".
Next stop of the day will be the village of Puhoi housing the winery "Asconi". Asconi winery has been producing excellent wines by implementing the best technologies and at the same time preserving old Moldavian traditions of wine making. The winery is aiming at producing best ever wines by combining French varietals such as Merlot, Muscat, Chardonnay, Cabernet Sauvignon with local ones like Feteasca Neagra and Feteasca Alba.
Day 4: European Quality Standards of Chateau Vartely and Stone Epoch of Branesti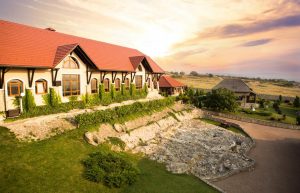 Morning drive to Orhei region to explore a new area of professional wine-makers. First winery to be visited on the route will be Chateau Vartely Winery placed on a hill and opening an astonishing view on the town Orhei, surrounding area and vineyards.
You're going to taste prominent quality wines highly appreciated by distinguished experts at various international competitions. Chateau Vartely is a
unique Moldovan project for producing wines according to classic European quality standards.
The company has planted young vines brought from European winegrowers, thus giving some special aristocratic notes to future Moldavian wines. Another interesting place of visit of this area is a carpets studio where hand-made articles and carpets with traditional Moldovan ornament are stored and carefully preserved by the owner of the collection herself. Take a tour around the property where the mistress will personally tell the origin of each carpet and article exposed there.
Afternoon visit to an underground "Stone Epoch" winery of Branesti village. Take a tour to a really impressive wine cellar "Branesti" stretching for over 55 km under the ground with unique tasting halls with sophisticated architecture and interior covered with perennial dust that's originally preserved and untouched. The winery is specializing in red and white wines, dry and semi-dry wines as well as sparkling wines which are really inviting. But of special demand and interest are the wines like Marsala, Madeira, pastoral wines involving special technology in producing them.
Day 5: Back to USSR and Wine Castle Mimi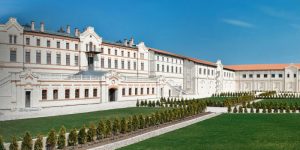 This day you will have a full day trip to Transnistria and will learn the history of this self-proclaimed independent and unrecognized Pridnestrovian Moldavian Republic that has its own currency, border guards and policy.
Afternoon visit to a gorgeous castle and winery "Castel MIMI" and enjoy perfect wines. Castel MIMI is a winery with a history         that takes us centuries back when the first chateau was founded in Bessarabia by an outstanding personality Constantin Mimi. He has contributed to modernization of Bessarabian viticulture- he has planted new European varietal which is more productive and more resistant to diseases such as Aligote. All guests of this unique castle can savor delicious meals from local eco products served in a winery restaurant offering nice atmosphere and refined dishes.
Day 6: High Quality Wines of the South East Region
Today, you'll explore the area of the south-east of Moldova with a very gentle climate that's explained by a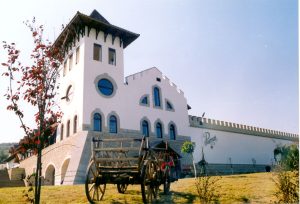 vicinity of the Black Sea. First winery to be discovered is EtCetera -a small but a very promising family run property. Being located close to the Black Sea and the river Nistru, the winery enjoys favorable climate conditions for viticulture. By sampling sparkling wines from EtCetera you'll be pleasantly surprised by the combination of tender color, thin taste and berry aroma.
Later proceed to the oldest wine-estate in Moldova Chateau Purcari.
The winery Purcari boasts high-quality wines, and you'll surely sample legendary wines from selected grapes.
Walk into the cellars where the wine is matured in oak barrels and bottles, including the Purcari wine collection. Feel the refined taste of gorgeous vintage wines like Rosu de Purcari, Alb de Purcari and Negru de Purcari which is considered to be Queen Elisabeth's II one of the favorite wines.
Day 7: Farewell to Moldova
Before taking your flight back home, be sure you have bought wine souvenirs from the country of excellent wines – Moldova!
Choose Wine Tasting packages in the wineries if you have a short stay in Moldova on wine tastings.
Submit your reservation on incoming@solei.md