WINE FESTIVAL IN MOLDOVA, 7-8 October 2023
Wine Festival Tour Description
Day 1/06.10.2023 CHISINAU ARRIVAL – WINE BAR "WINE.MD"
Meet and Greet an English speaking guide at the Chisinau International Airport
Transfer to hotel in Chisinau. Check-in. Time at leisure.
Evening visit to the Wine Bar "WINE.MD" for the first acquaintance with the Moldovan wines.
Here you will savor perfect wines from mainly small private or family-run wineries from different corners of Moldova. Dinner at the wine bar&restaurant WINE.MD served during the wine tasting.
Overnight in Chisinau.
Day 2/07.10.2023 WINE FESTIVAL IN CHISINAU – THE WORLD'S BIGGEST WINE-CELLAR MILESTII MICI
Breakfast at Hotel
Morning visit to the National Great Assembly Square "Stefan cel Mare" and participation at the Wine Festival in Chisinau combined with a sightseeing tour of Chisinau.
This year, a record number of 60 wine producers will come to the Great National Assembly Square to present the product of national pride and the national traditions in winemaking. The visitors of the event will be encouraged to get to know the Wine of Moldova and to enjoy it moderately and responsibly.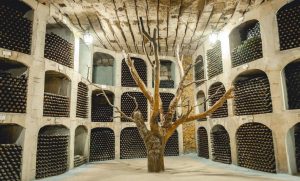 A record number of 60 wine producers will get united by the national wine brand "Wine of Moldova" and will let participants taste hundreds of types of quality wine from Protected
Two authentic peasant yards will replicate the process of winemaking, with traditional benches, barrels, winepress, grapes, and osier baskets and, of course, with traditional house hosts. Their presence will reflect the millenary winemaking traditions of our people.
Wine School – the best sommeliers will guide the participants through the mystery of conscious consumption of Moldovan Wine and will organize master classes.
Local gastronomic flavors – every visitor will be able to taste the best types of local food prepared during the event, assorted with Moldovan Wine and seasoned with artistic shows with all types of music.
Concerts  – well-known folk music orchestras, dancing clubs from Chisinau and Moldovan regions and local music bands will entertain the public with their performance.
Afternoon departure to the world's biggest wine-cellar MILESTII MICI.
In the afternoon get into one of the biggest wine cellars in the world and witness "the Golden Collection Milestii Mici" entering the Guinness Book of Records for storing more than 1.5 Million bottles of harmonious wines dating from the period of Moldavian wine making prosperity "Pinot", "Traminer", "Muscat", "Riesling", "Feteasca", "Codru", "Negru de Purcari".
During the tour, the group will see rich collection of the selected wines and will have a walk through the underground wine gallery. The wines stored here are made of various years' crops, beginning with the 1968 to 1991.
The tour finishes with wine tasting and dinner in the winery restaurant accompanied by live traditional music.
Evening at leisure in Chisinau.
Overnight in Chisinau.
Day 3/08.10.2023 ORHEIUL VECHI ARCHEOLOGICAL COMPLEX – BRANESTI WINE-CELLARS
Breakfast at Hotel
It's difficult to imagine a trip to Moldova without getting to its visiting card "Orheiul Vechi" – a museum complex that presents the remains of different civilizations established between Nistru and Prut rivers. This is a cave complex comprising caves, grottos, churches, and hermitages. The open-air museum represents a true natural fortress, inhabited since ancient times.
You will witness the unique 13th cent. Cave monastery with one monk created by Orthodox monks and will see the ruins of the Old Turkish baths as well as the ruins of the Tatar-Mongolian fort "Shehr-al-Djedid". Also visit the Moldavian village Butuceni with a typical 19thcent. Moldavian house-museum.
You'll enjoy traditional Moldovan lunch at a guest house in Orheiul Vechi area, in one of the adjacent villages like Trebujeni or Butuceni.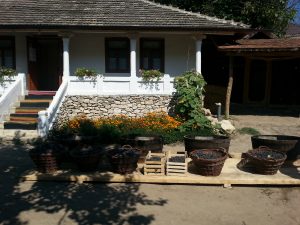 Afternoon Wine tour& tasting at a "Stone Age" wine cellar Branesti in a nearby village.
We'll take you to an impressive "Stone age" wine cellar "Branesti" stretching for over 55 km under the ground with unique tasting halls with sophisticated architecture and interior covered with perennial dust that's originally preserved and untouched. The winery has been specializing in red and white wines, dry and semi-dry wines as well as sparkling wines, which are really inviting. But of special demand and interest are the wines like Marsala, Madeira, pastoral wines involving special technology in producing them.
You'll surely taste the best wines of the wine cellars Branesti and enjoy a relaxing atmosphere and dinner in the "Stone Age" restaurant of this winery carved in a limestone rock.
Evening at leisure in Chisinau where you can enjoy the live concert of the local Moldovan stars right in the middle of our capital Chisinau.
We can guarantee much and good wine, perfect disposition and nice atmosphere for any sophisticated guest!
Overnight in Chisinau.
Day 5/09.10.2023 FAREWELL TO MOLDOVA
Breakfast at Hotel
Departure to the Airport.
Tour details on incoming@solei.md