One day Hiking Tour 
Group size: from 1 pax
Tipova Monastery is one of the oldest monasteries in the Republic of Moldova. The monastery is spaded in stone on the bunch of Nistru River. Tipova River flows down the Nistru River and forms various waterfalls.
According to historians, Stefan cel Mare si Sfint frequently was visiting these lands during his battles against Tatars. An old legend tells that the great lord (Stefan cel Mare) married to one of his wives in the Tipova monastery, who after her death, was buried at this holy place.
According to an old legend, the Greek mythological poet Orpheus died at Tipova Monastery. He was buried on the cascade valley and it is not difficult to recognize his grave, as there are six apertures slabs on it.
Old Orhei is a museum complex that presents the remains of different civilizations established between Nistru and Prut rivers. It is situated 60 km away from Chisinau in a narrow, rocky,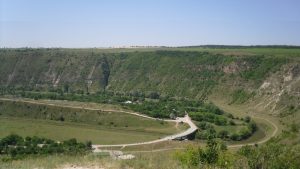 150-200 m deep bend in the Raut River valley. On the opposite side of the river we can distinguish the ruins of the "New town" of the Golden Horde called Sheihr-al Gedid (XIII-XIVc.), which, according to researchers is considered to be one of the Tatars' capitals during their expansion into Europe.
Also, an Orthodox cave monastery called "The Assumption of Mary " was expanded and modified inside the cliffs by the monks over the centuries and has been preserved in a functional state.
This is a cave complex comprising caves, grottoes, churches, and hermitages on the territory which stretches over 220 ha.
Tour details are available on incoming@solei.md